Santa Barbara, California — Staffing Industry Analysts (SIA) today announced Partners Personnel as No. 4 on its 2022 list of Fastest-Growing Staffing Firms in the United States. 
To qualify for the list, staffing firms had to post at least $1 million in revenue in 2017 and have a compound annual growth rate (CAGR) in revenue of at least 15% between 2017 and 2021.
Shannon Sorensen, Partners Personnel Co-Founder and Owner said, "Being recognized by Staffing Industry Analysts as a fastest-growing staffing firm is humbling, and I am very grateful for the thousands of clients and associate employees who honor us with the opportunity to serve them."
This year, 122 staffing firms made the list posting a CAGR of at least 15%. Since 2021, Partners Personnel opened over 30 new locations and is now operating more than 100 branches in 44 states. This exponential growth led to a CAGR of 125.2% and final 2021 revenue of $637.4 million.
"This award is a recognition of all our colleagues working together in extraordinary ways," Partners Personnel CEO Paul Sorensen said.
Among the six industrial staffing firms that made the top 100 list, Partners Personnel was ranked No. 1 in fastest-growing with a CAGR 58% higher than the No. 2 ranked industrial staffing firm.
Partners Personnel President Mark Mccomb said, "We thank our valued clients and associate employees for your business and for the trust you place in us every day."
SIA interviewed the top ten fastest-growing staffing firms of 2022. Read the story on Partners Personnel here:
2022 FASTEST-GROWING US STAFFING FIRMS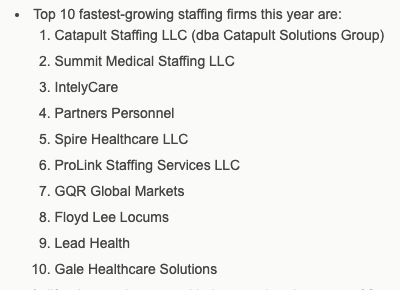 About Partners Personnel
Founded in 2017, Partners Personnel is a full-service staffing company with over 100 locations nationwide dedicated to finding the best talent for its clients and building great careers for its associates. Its team of staffing industry veterans possesses in-depth insight into the local labor markets, industries, and communities it serves. Its transformative business model of providing a more personalized customer experience has fueled its momentum to become the 14th largest industrial staffing firm in the nation and an SIA Best Staffing Firm to Work For. 
About Staffing Industry Analysts (SIA)
Founded in 1989, SIA is the global advisor on staffing and workforce solutions. Our proprietary research covers all categories of employed and non-employed work including temporary staffing, independent contracting and other types of contingent labor. SIA's independent and objective analysis provides insights into the services and suppliers operating in the workforce solutions ecosystem including staffing firms, managed service providers, recruitment process outsourcers, payrolling/compliance firms and talent acquisition technology specialists such as vendor management systems, online staffing platforms, crowdsourcing and online work services.